Never in a thow-sand years did I think I would post a post from Scarborough Country on my blog, as I see Mr. Scare as the same thing as Mr. B. Oreilly and his counterparts. But luckily his producer Kellyanne Dignan writes on the site about celebs and other fascinating topics. I really like what she has to say about the official TomKat wedding photo, so here it is and I am citing their blog,
http://www.msnbc.msn.com/id/15624439/#061120a
as all borrowing bloggers should, and state that I hope its okay that I am showing the pic as well. Hollyweird banner is all theirs as well. I'm posting here as well, and below is all her, until I state my opinions below it.
Nov. 20, 2006 3:21 p.m. ET
Tom's fairytale wedding
(Kellyanne Dignan, "Scarborough Country" producer)
So now that all the TomKat dust has settled, the rose petals have been cleaned up and the happy couple is on their Honeymoon, I have to ask -- where was the Dawson's Creek reunion? While I never doubted the wedding of the century would be attended by Hollywood Scientologists A and C list alike, I do admit I hoped to spy a few of Katie Holmes former co-stars in the wedding photos.
Joshua Jackson, Katie's sometimes on and off-screen "Dawson's Creek" boyfriend joked with reporters while promoting his new film "Bobby" that he wasn't even invited. He also says he hasn't talked to Katie since she cruised into Tom's orbit.
So, what's the deal? Maybe it's as simple as Katie just doesn't get on with her former co-stars? It's possible, but I did notice this TomKat wedding was really more about Tom than Kat. It seems the guests, the ceremony, and yes even the publicly released wedding photo are all about Tom.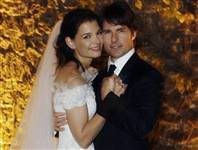 Robert Evans / Reuters
Actor Tom Cruise and Katie Holmes pose for their official wedding portrait in Lake Braccino, Italy in this photo released to Reuters November 18, 2006. EDITORIAL USE ONLY REUTERS/Robert Evans/Handout (ITALY)
--------------------------------------------------------------------------------
I have to admit I'm not so much a fan of TomKat's official wedding photo. The couple used famed L.A.-areaphotographer Robert Evans who took the photos at Brad Pitt and Jennifer Aniston's wedding. The now defunct Braniston were another Hollyweird couple who released just one official photo. But their picture tells a different tale.
While in the long run it obviously didn't work out, the couple looks equal and happy in the photo. That's perhaps the most perplexing part of the TomKat photo. Either Katie is slumped or Tom is wearing lifts because it's the first picture I've seen with a taller Tom. And while Katie looks happy, Tom just looks like he is posing.
Now a wedding is a time to be happy for the couple whether they are friends or strangers, so Tom and Katie I salute you. But Katie remember you're a tall woman with a decent career (and as Jennifer Aniston can tell you these things don't always work out), so don't cruise too far off your own path.
Post borrowed from "Regular Joe," 'Talking about issues that matter to a regular Joe," Scarborough, written by Kellyanne Dignan, Scarborough Country producer,
http://www.msnbc.msn.com/id/15624439/#061120a
, Nov. 20, 2006 post.
**&&**&&**&&**&&**&&**&&**&&**&&**&&**&&**&&**
Tart's thoughts:
Alright, well personally I think despite any 'talent' Mrs. Cruise might have had, its flushed down the drain now. Forever and always, whether this marriage works or not she will be thought of as Mrs. Tom Cruise, which might be pretty great if he is still backing her, and if not, she will have to find some serious inner strength. I Don't think this one is as talented as Nicole Kidman and would probably have a very hard time putting things back together again.
I found it notable in the companion MSN story about the wedding that Katie walked to the altar surrounded by people in medieval costumes and the beat of drums. Much like Marie Antoinette on that fateful walk to the guillotine, no?
Perhaps the reason Tom is not looking so happy on his wedding day is he might be a tad O-ver it on Katie being the 'most amazing woman in the world.' I think there may have been sitings of the most amazing woman in the world in Spain, no maybe it was Italy or France, wait - walking in EveryTown, USA? Not unlike weddings for the rest of us shmucks, maybe he's doing it for her and their born-out-of-wedlock child (stats on MSN show 4 out of every 10 are now born this way, again to us shmucks and a growing number of celebrities, alike). Also, Katie's got on her side that she is Catholic and if this marriage ends, she can annul it just like Nicole did hers, start anew and still get married to hopefully less of a weirdo, and with the Pope's blessing.
Tom will be looking for wife number four, someone willing to fling her own religion aside and marry into his made-up one. I'm thinking she will be about eighteen years old and/or a little mentally challenged, 'cause its getting harder and harder to find someone to fall for it. He'll really mean it when he calls her, "special."